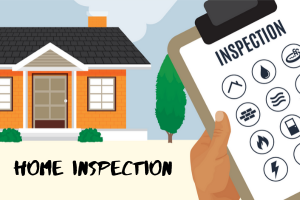 A home inspection is an important part of the home buying process. It's a thorough examination of the condition of the home.
They inspect both the exterior and the interior condition of the home.
You can then take this information and decide if this is the right home for you.
Both home buyers and sellers often use an inspector. A home buyer uses an inspector so they know of any major or minor problems before purchasing a house. A home seller may hire an inspector to help identify problems with their home. They can share the information with the home buyer or make the repairs so that their house may sell quicker.
During a home inspection, an inspector will look at the HVAC system, electrical systems, plumbing systems, the attic, the roof, walls, ceilings, floors, windows and doors, the foundation and any structural components. A home inspection usually does not include inspecting for asbestos, radon, methane, radiation, formaldehyde, wood-destroying organisms, mold, mildew, fungi, rodents or lead. To learn more about these inspections, check out the 14 types of specialized inspections. You can also look at the American Society of Home Inspectors to see what you should expect in your home inspector report. These home inspectors have to follow a Standards of Practice and Code of Ethics.
A home inspection is usually a must for a buyer and if not, you should make it a must. Some mortgage lenders require a home inspection so make sure to confirm with your lender should you decide to forego an insepction.
Buying a home will probably be the largest investment you will ever make, so having peace of mind is comforting. You don't have to be there during an inspection, but it is a good idea if you are. You will be able to follow along and see the problems and ask any questions. If there are any major or minor problems, you may choose not to purchase the house or you could ask the seller to pay for these repairs before you purchase the house.
Just don't nit-pick the small items.
Instead, just address the major issues and safety issues.
BEAR IN MIND — If you're buying a house that's 20 – 30 years old, the HVAC, other appliances, and roof are probably that old as well. The inspection report may come back saying that they are near the end of life. That doesn't mean that they need to be replaced, and the seller probably won't agree to replace an appliance that is still working. The report is just letting you know that they may need to be replaced in the future.
A good option in this case is to purchase a home warranty or ask the seller to purchase one for you.
This warranty usually costs between $500 – $1200 and covers major defects in certain appliances for a year, providing you with some peace of mind. The home warranty can also be extended once it expires after the first year.
The price you pay for a home inspection is a small price to pay to make you feel secure with such a large purchase looming. Inspection fees vary by region, the size of the house, its age and if other services are needed to be inspected like a well, septic system or radon testing.
An inspection lasts from two to three hours and usually ranges from $350 to $600.
Ask your REALTOR® for some referrals for inspectors if you're not sure who to choose or which inspections to get. Always ask the inspector if they are licensed and what kind of credentials they have. You will be required to pay the inspection fee up front to the inspector.
Some people are under the misconception that a new construction does not need a home inspection. This is totally false. Don't always assume that the builder and contractor did everything correctly. Leave that to the professionals to figure out.
Another mistake that a buyer may make is not following up on the inspector's recommendations. If your inspector recommends getting something further evaluated, don't just sweep it under the rug. Follow up on the situation. Always get several estimates on what it will cost to fix the problem.
Also, inspectors are not psychics and can only inspect things that are visible. They don't know when a problem will arise. Just because something looks okay now, doesn't mean that it won't fail in the near future. They are paid to inspect your house, so they are a very neutral party and will give you their honest opinion.
If you would like more Columbia, MO home inspection information, contact us today!